Project Overview: The educational project "Installation of solar power plants" was successfully implemented in collaboration with the Eberhard Schöck Foundation (Baden-Baden, Germany) and LEPL College «Phazisi» located in Poti, Georgia. The initiative aimed to equip college students with theoretical knowledge and practical skills in the field of photovoltaics and renewable energy.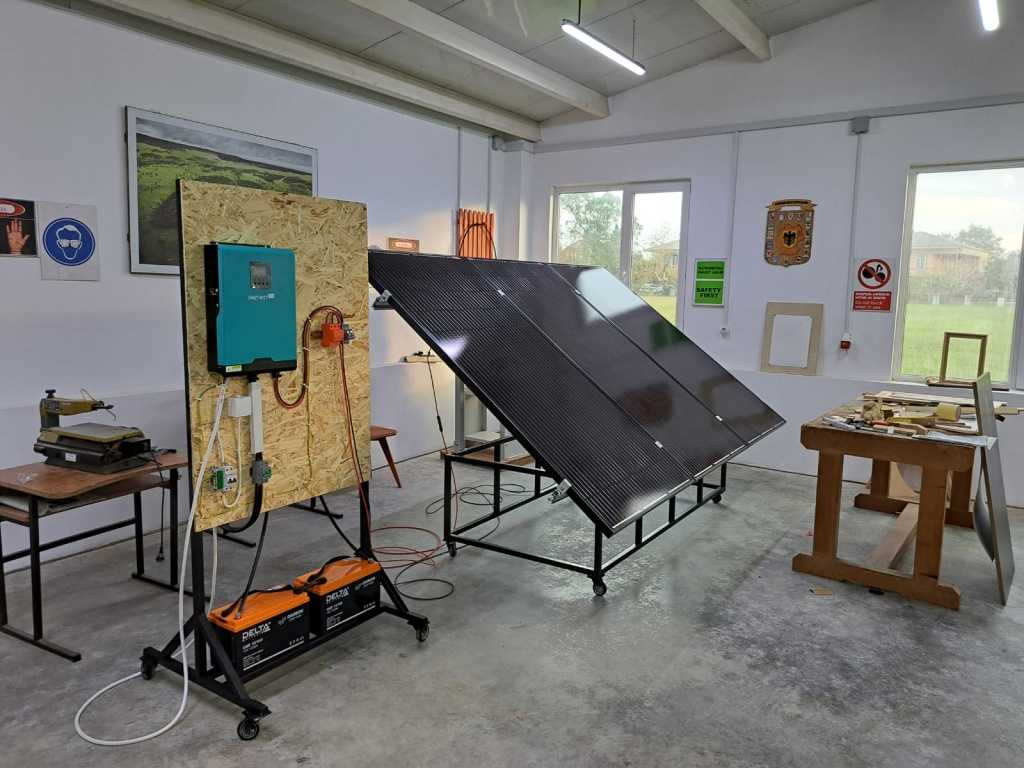 Key Project Components:
Solar Power Plant Installation: The centerpiece of the project involved the installation of a 16.5 kW solar power plant on the roof of the college workshop. The solar power plant was connected to the grid using a net-metering system, enabling surplus electricity generated to be sold to a Georgian energy retail company. This innovative system is projected to reduce the college's energy consumption by a third, with the excess electricity being efficiently utilized during the summer months.
Seminar for College Students: A two-day seminar was organized for 15 college students, combining theoretical and practical sessions. On the first day, students were introduced to the history of photovoltaics, global energy trends, types of solar power plants, and their components. On the second day, students actively participated in assembling and operating a hybrid solar power plant, gaining hands-on experience.
Solar Power Plant Calculation: The students also received training on using specialized software to calculate a solar power plant for an industrial facility. The calculations involved productivity assessments, capital and operating cost evaluations, and payback period analysis. This exercise provided valuable insights into the technical and financial aspects of solar power plant planning.
Expert Speaker: The main speaker for the seminar was Irakli Babunashvili, technical director of PV Georgia. With his extensive practical expertise in various solar power plant implementations, the students received valuable insights and real-world knowledge from a seasoned professional.
Acknowledgment and Future Collaboration: The project received recognition from the Agency of Professional Skills of the Ministry of Education and Science of Georgia, highlighting its importance in fostering the growth of the photovoltaic industry in the region and the country at large. Additionally, The Eberhard Schöck Foundation and EUROSOLAR Georgia plan to continue their collaboration, with future plans to conduct educational courses in colleges across Georgia regularly. This initiative aims to train specialists in working specialties for the installation of solar power plants, further advancing the renewable energy sector in the country.
Conclusion: The successful implementation of the educational project "Installation of solar power plants" in LEPL College «Phazisi», Poti, Georgia, marks a significant step forward in promoting renewable energy education and practical skills development among college students. By providing hands-on training, theoretical knowledge, and expert guidance, the project has laid a strong foundation for nurturing a skilled workforce ready to contribute to the growing solar energy sector in Georgia.